Shaan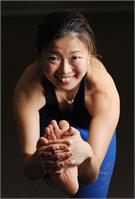 My story of this yoga began in 2005 when I was referred to it by a good friend of mine. My first class was a torture.. It was so hot and I LOVED IT! The minute the class began with the first breathing, I immediately felt I was 'home'. I struggled to breathe properly and almost fainted during the class as I was very determined to keep up with everyone else especially the amazing front row practitioners! Even though I couldn't do ¾ of the class, I felt amazing afterwards and kept going back for more torture. Each time I went into the hot room, I was able to just let go and enjoy the learning in class. I didn't know what learning I was getting at first, but after a few more sessions I realise what it was – learning to breathe and listen to my body, and to enjoy my yoga journey. 'It's never about the destination but always about the journey'.
I am passionate about this yoga. When anyone asks me, I won't lie I will tell you it's hard, it's hot, and I love it. I love the healing benefits of every posture. I love that this is 90 minutes and it is 26 postures, and that it is the same, every, single, time. I love that only YOU can change your body, you do all the hard work to benefit. Only by repetition does your body improve and start healing. Anything you learn in life, you learn and practice again and again and again, you get better, you don't get worse. I love how this yoga changed my life; I was a corporate accountant for 8 years before giving it up and to committing myself fully into teaching and spreading the wonderful benefits of this healing yoga.
During my 8 years as a teacher and studio owner, I have seen so many positive changes to students and practitioners all over the world. Bikram Yoga is not about being the fittest or the most flexible in the room. Bikram Yoga teaches you something else, something similar to life... It is never easy, always hard… the struggle in the hot room. In fact, the biggest challenge in coming to the hot room is not the heat; it is setting the intention to come to class and following through with it. By keeping a daily practice, I have also discovered the secret of Bikram Yoga; I wake up every day feeling so energized and ready for anything that comes my way!
My studio in Werribee opened in November 2009 and Yarraville in 2012. We have met many students who have benefitted from the yoga i.e depression, weight loss, arthritis, rheumatism, bad knee/ankle/hip, you name it we have seen it all! It does not matter who you are, what matters most is you practise yoga with an open heart, and an open mind. No judgement. Have compassion for yourself. My instructors and I are here to help you in your yoga journey. We hope to welcome you to our hot room soon. Namaste.

Birthplace
Singapore
First Bikram yoga class
Bikram Yoga Richmond Studio in Melbourne, 2005

Favourite Bikram Yoga Pose
Standing head to knee
Most Challenging Bikram Yoga Pose
Cobra pose
Biggest challenge on the mat
Stop my fingers from moving/twitching
Biggest challenge off the mat
To slow down! I have too much energy after class!
Shaan instructs the following:
Hot Pilates is a training system using Pilates Principles along with High Intensity Interval training (HIIT)
in a room heated to 32-34 degree celsius and 40% humidity. All classes are 55-60 minutes long. Hand weights are used to help TONE and SCULPT your body. This is a FULL BODY WORKOUT designed to create long lean muscle mass, burn fat, and increase your fitness levels. It creates a stronger core, improves circulation and increases flexibility. Class is performed on a yoga mat (strictly mat work) making it zero impact, protecting your joints and muscles.

Suitable for all fitness levels; first time and experienced students alike.




This 60 minute hot yoga series is quick paced with the emphasis on effort, stamina , and mental focus. With very little modification to the original series the practitioner will work the mind/body to its maximum in this hour long heated class. All original postures included, some done with single sets.




Bikram Yoga is a series of 26 posture (asana) series completed in a specific order in a heated room. Each posture is done twice; each posture prepares you for the next. All classes are 90 minutes long and conducted in a heated room. The intention is to work every system, organ, gland, muscle, ligament & tendon in the body.

All classes are designed for first time and experienced students alike.